HAPPY HORSE HAPPY LIFE MASTER INSTRUCTOR
Kerri became a Horsemanship professional at the young age of 17 when she became Director of Horsemanship at a private school in Maryland. She was a Licensed Parelli Professional for over 15 years before retiring in 2020. She joined Happy Horse Happy Life as a Master Instructor in 2020.
Kerri lives and teaches at her ranch in Fredericksburg, Texas.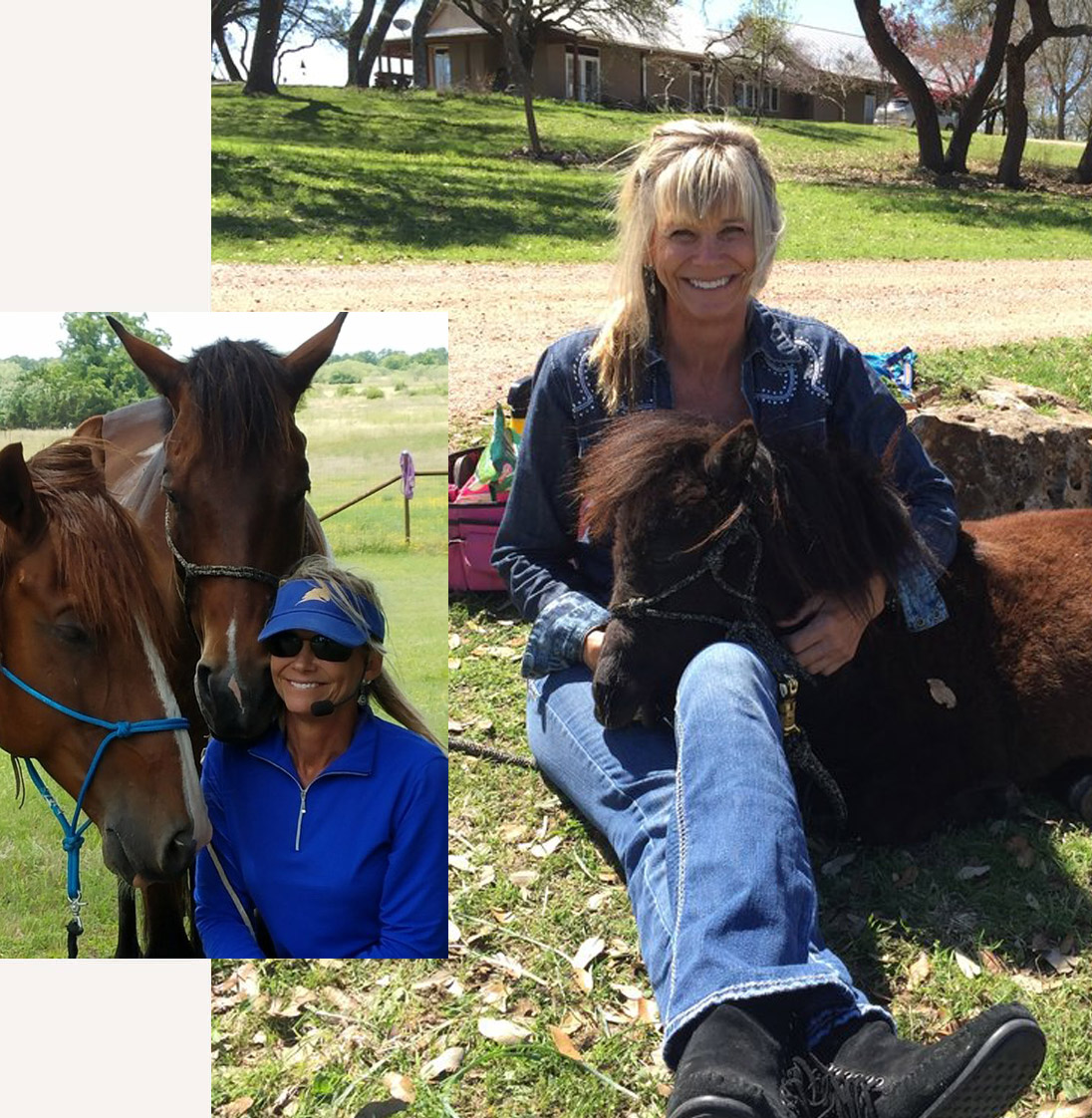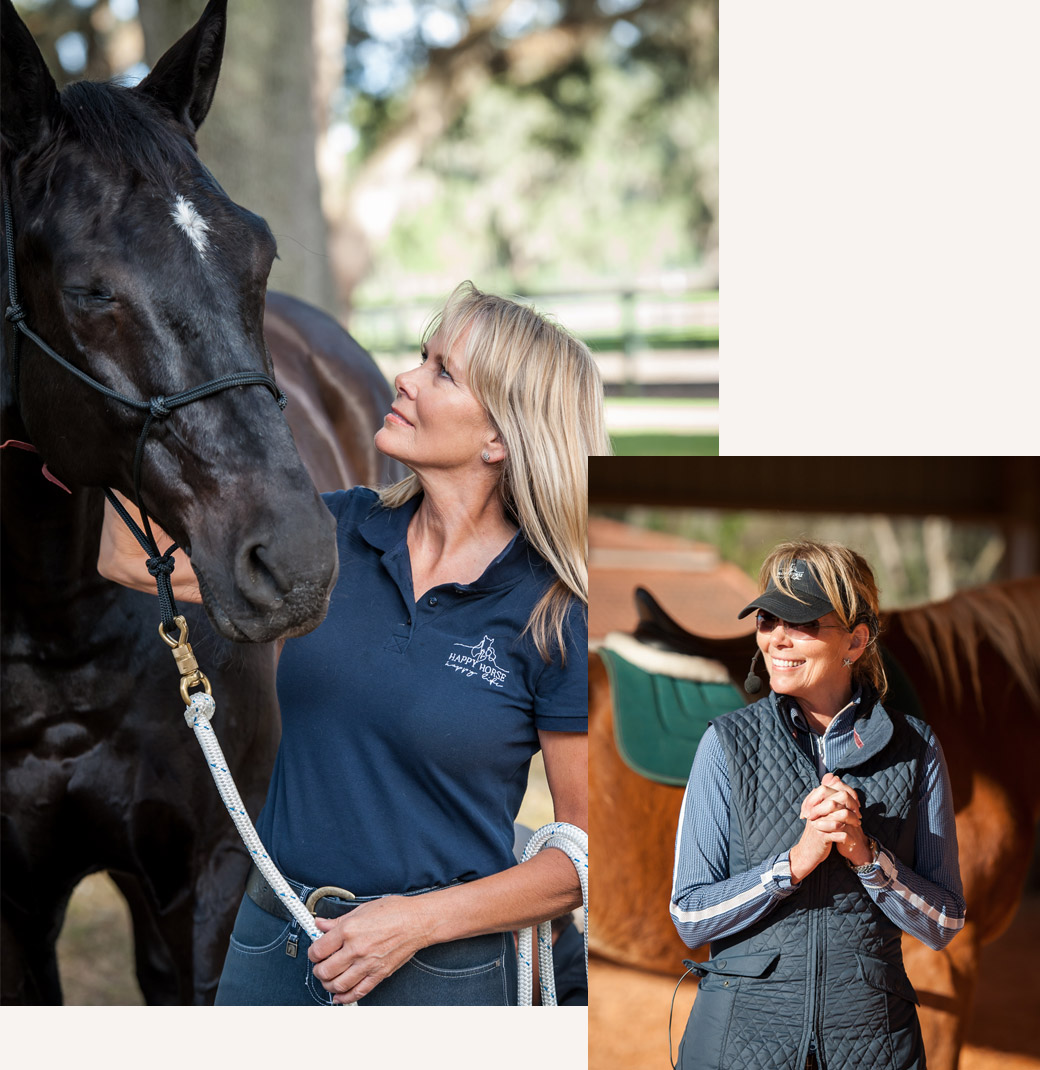 Linda Parelli is considered the leading female expert on horse psychology based training and mindful riding, empowering her students to be better leaders, riders and communicators with her unique approach to teaching.
She's developed a unique goals-oriented horse training program designed to dramatically improve your relationship with your horse, your skills as a rider and your own personal goals
Kerri April is the BEST choice you and your horse can make
1. As of 2021, I have 49 years of experience as a professional riding instructor, in all kinds of environments, including camps, schools, clinics, adventure treks and of course private and small groups as well. 15 of those years as a, Licensed Parelli Natural Horsemanship Professional, with 5 of those years as a 4-Star Senior Instructor. In 2020, I joined Linda Parelli in her exciting new program, Happy Horse Happy Life as a Master Instructor. Linda is one of the world's leading authorities on Horse Behavior and Psychology and I am excited and privileged to be able to learn and study with her on a regular basis and pass that knowledge on to you, my students.
2. Teaching is my passion, my joy and my heart. I have a very positive way of teaching and have the ability to quickly understand what the horse and human need most, in any given moment and focus on the ingredients to help you reach your goals.
3. I have owned and ridden hundreds of horses over the past 55 years and love to help horses develop into partners for their humans using horse psychology, the language of the horse and leadership, obtained naturally, that the horse can respect and accept. I can teach you how to develop your horse this way as well.
4. I have a beautiful facility to help you and your horse feel comfortable during your lessons and clinics. When you come to my ranch I have a choice of BnB cabins that you can stay in and be on site with your horse. I am happy to work with you and set up a custom stay for fun, relaxation and education. Wolf Creek Guest Ranch is located just 10 miles from the destination city of Fredericksburg, Tx. that is know for it's beautiful wineries, shopping and restaurants in some of the most beautiful country in Texas. You can even bring your family.
5. I am willing to travel and teach virtually to help you in any way that I can. I love to do demos and talk with people about a different approach to horsemanship with understanding the prey-predator relationship that we have with horses. Only when we understand this can we be mindful of not acting like a predator when our horses need us to act like a partner instead.
6. I believe in 2 ears for listening and 1 mouth for motivating. I have an empathetic personality and am very interested in your stories and learning about your strengths and how we can develop and incorporate those into your horsemanship. I am also interested in your fears and confusions and help you come up with a plan to minimize those issues and become more positive and progressive in your horsemanship and in your everyday life.
7. I have a great safety record with very few student accidents in all the years that I have been teaching. I have an eye for seeing something about to happen and quickly redirect and move on. Possibly from all my early years teaching groups of children where all kinds of things show up. Confidence is easy to lose and hard to gain back. Protecting my students confidence is very high on my list.
8. I come from a family of athletes, teachers, motivators and entrepreneurs. My dad was a professional athlete, playing baseball as a pitcher for several Triple A clubs and having contracts with the Baltimore Orioles and the Philadelphia Phillies during which time he threw his arm out pitching 9 innings against the Chicago White Sox's, during spring training. He played football, baseball and basketball for both Princeton and Rutgers University. He was a pitcher for the Marines in 2 wars, WW2 and the Korean War. He spent most of his career as the Director of Admissions and the Director of Student Affairs at Johns Hopkins University, never fully regaining his fast ball.
My mom comes from a long line of teachers and was, until she retired in 2019 at the age of 90, one of the worlds leading authority on Dyslexic Education, founding 4 private schools across the country and 4 summer camp programs. I grew up in a very rich environment of extraordinary people, relatives and friends around our dinner table, with their visions for a better world in which to live. I am very fortunate for having inherited a bit of both the athletic and teaching gene. Teaching, training horses and riding have come very naturally to me, and I love to share what I know and what I am learning.
9. This is your life and your journey and if I can be a part of that as your coach, I will make you a promise to bring together; knowledge, safety, fun, motivation and honesty for you and your horse.
10. Good better best, never let it rest until your good is better and your better is best.
Let's journey!
Kerri April
458 Wolf Way, Fredericksburg, TX
512-922-9690
1 hour: $100
3 hour: $250
Contact Kerri April to Schedule Your First Lesson!
Are you ready to rapidly increase your riding skills and your relationship with your horse? If the answer is "YES!", Happy Horse Happy Life Master Instructor Kerri April is the instructor for you. Simply call Kerri at 512-922-9690, email [email protected] or complete the short form below to below to get started!
Copyright 2021 © Kerri April Horsemanship.
All rights reserved.